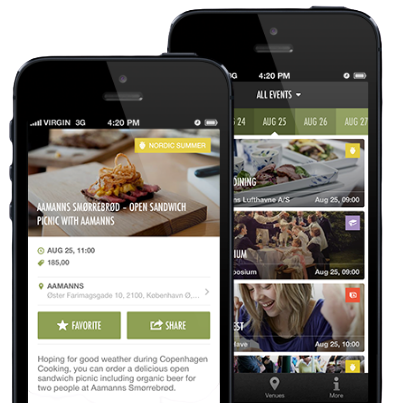 One of the biggest food festivals
Copenhagen Cooking is one of the biggest food festivals in Northern Europe. The festival is organized twice a year and includes around 250 food events and gastronomic experiences over the space of two weeks, all over the city.
Copenhagen Cooking worked with Triptale to create a mobile app to complement their print brochures and make the information more readily available than in a physical brochure.
Increased engagement
The primary strategy for driving downloads was providing visitors with a really useful tool. The app helped participants get an overview of all events and create a personal program.
The result: Very high engagement. The average session duration was 2:12 minutes with 20 screen views per session – whereas the average attention span is in general only 8 seconds.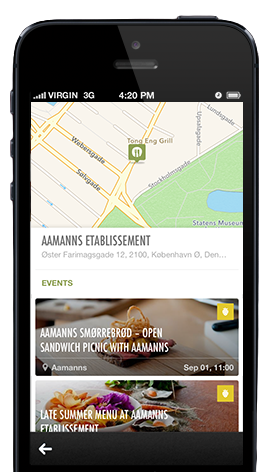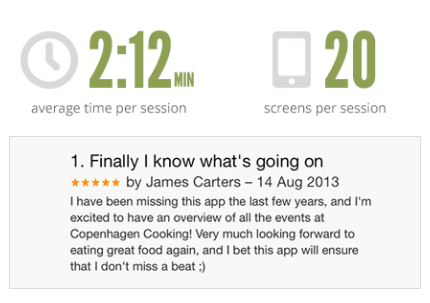 What does our customer say?
"The goal was to provide a visual, convenient, and relevant tool for attendees to discover gastronomic events and make their own program, while giving us the possibility to update it at any time. Triptale helped us achieve that by delivering a beautiful app."
Louise Örnfelt, Senior Strategic Consultant at Wonderful Copenhagen
Great for the festival visitors
With more than 250 events at the festival, the first task was to create an overview. To make the content as relevant as possible immediately upon opening, the app automatically opened on the correct day during the festival, enabling last minute decisions.
The Cooking Festival has different culinary themes. To increase relevance for the individual visitor, a filtering function was implemented. Visitors could browse events they were most interested in.
One of the most popular features was that visitors could make their own program with a favourite function. Once people have invested time in favouriting information, they are much more likely to return to the app. This was popular with the users; 40% of the events were favourited during the festival.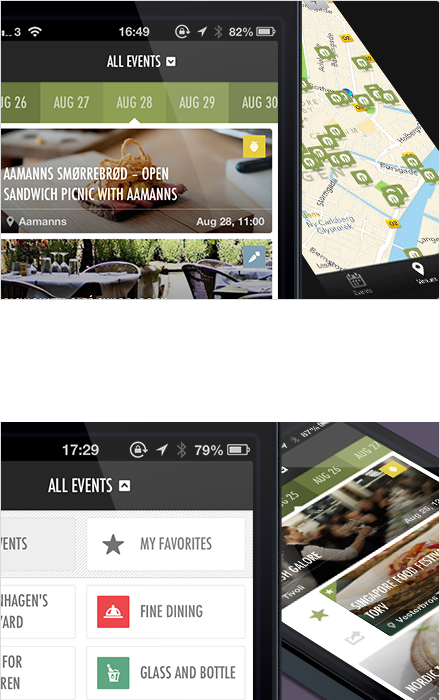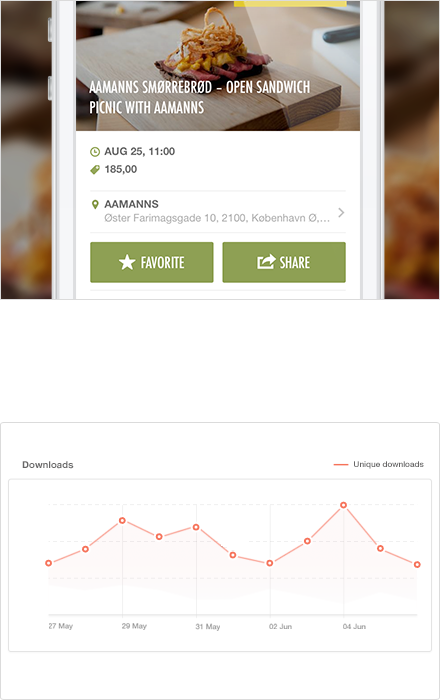 Great for the festival organizers
As opposed to print material, an app is interactive. Wonderful Copenhagen could update last minute venue changes via a CMS system that synced to the app automatically. This ensured that visitors had the most up-to-date information at all times.
As an organizer, you will also love the integrated in-depth analytics. It will give you instant feedback on the most popular events and visitor behavior so you can track the success of your event and make the necessary adjustments.
An app can also send notifications to visitors, sending them a reminder when events they have favourited is approaching. Approximately 75% of people allow notifications permission to remain on.
The integrated share button is one of the best ways to spread the word about the festival. Facebook and text were the most popular sharing methods for this festival.