Export and grow into global markets with ease
United Kingdom Trade and Investment ( UKTI ) helps businesses export and expand to global markets. They also help overseas companies locate and grow in the UK. Their services are currently provided in more than 100 markets throughout the world.
UKTI helps international companies establish & expand their business in the UK and offers business opportunities, advice, and support to UK based companies looking to grow overseas. UKTI provides access to a regional network of international trade specialists across the UK. This helps businesses acquire the skills, contacts, and confidence to start exporting or expanding to new markets. Working closely with a global network provider, such as UKTI, ensures that UK businesses are given the best advice about exporting to the location chosen.
At Triptale, we created a guide in the form of an app.
In collaboration, Triptale and UKTI  came up with the idea to create a mobile business app solution that would create a user-friendly and easy-to-navigate solution to help businesses better manage and access the UK export market. Providing all the important details in one simple system – to create better access and awareness.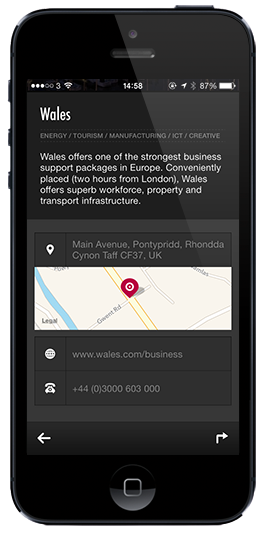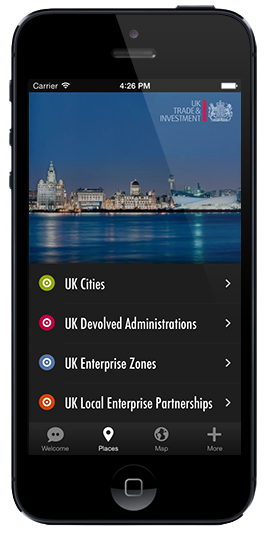 The right contacts in your pocket
Knowing the right person to approach within any organization is extremely important, so Triptale helped UKTI in creating a mobile business app solution. The mobile app provides the user with all the local contacts an international company might need to get set up in the UK.
Busy business travellers targeting the UK's export market will now have access to real time information about business opportunities through UK Trade & Investment's mobile business app.
The mobile business app solution for UKTI
The UKTI app provides instant access to information about the major business opportunities in the region, live tenders, overview of local events, and practical travel info. In addition, a direct contact link to the exact UKTI person is provided to help businesses forward it to the chosen export destination.
The app can be downloaded for free for both iOS and Android platforms.
Download the UKTI mobile business app today: for iPhone or Android
UKTI's experience with Triptale
"When we at UKTI were faced with bringing together details for 70+ local areas of the UK market, and create a cohesive, easy to use solution that was simple and user-friendly – we came to Triptale for help.
Triptale helped us achieve and create a mobile business app solution that is a neat, user-friendly way for businesses to gain information and access with ease. The process is whole has been a pleasant one and Triptale have been very co-operative, innovative, creative and all together a complete joy to work with."
– Karen Ball, Head of Local Engagement at UKTI